Mobile Gantry
In 2005 Pax company won tender for design, manufacture, and assemble of Mobile Gantry for Guiana Space Center (GSC) nearby Kourou. Major design and construction companies participated in the tender. The project offered by Pax Company won 30 options from 33.
Use of Mobile Gantry (MG) is necessary for implementation of vertical assembly of the Launch Vehicle (LV) and Head Part (HP). MG also protects LV and satellites from the environment, provides access of personnel to all LV systems and has the ability to quickly evacuate personnel from all the levels of MG beyond the areas of possible explosion of LV. MG has unique characteristics: own mass of the bearing structure is 285 tons at the total weight of MG with equipment equivalent to 870 tons; horizontal deviations of MG at height of 39 meters from wind and heating do not exceed several millimeters; MG consists of 109000 original details and 3500 assemble units. 
By request of Federal State Unitary Enterprise TsSKB "Progress" Pax company additionally designed and controlled manufacturing of 28 containers for transportation of "Soyuz" space vehicles to Guiana Space Center, and designed and manufactured a set of pivoting cable frames for "Soyuz" LV.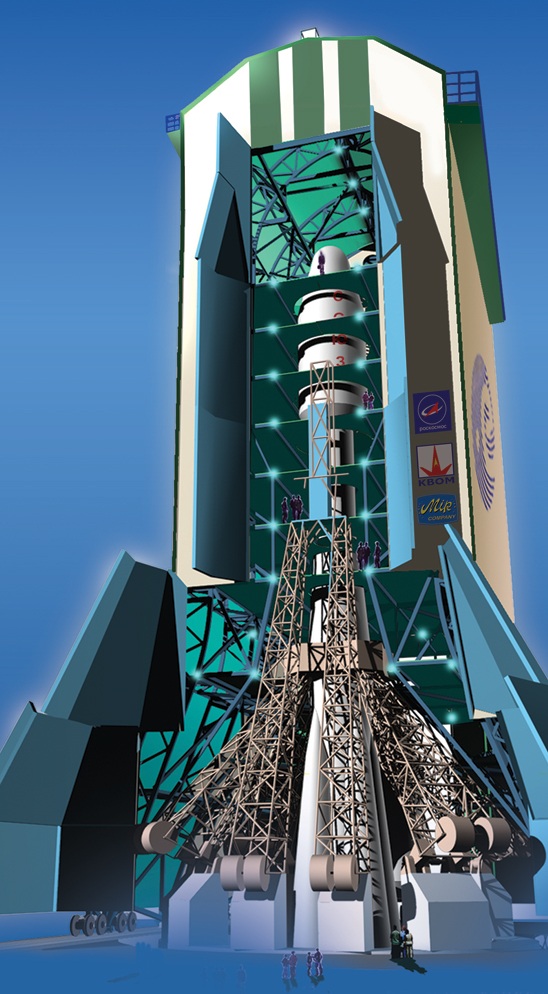 Design
Design of MG was carried out with the use of  the certified software AUTODESK INVENTOR, Solid Works, all strength analysis were carried out  with the use of certified MSC software, Visual NASTRAN for Windows. License version for FEMAP 8.2.1 in accordance with the requirements of the following standards:
● Regles NV 65 modifiees 1999 et N84 modifiees
● Regles CM 66 et additive 80 ENV 1991-2-4:1995,Eurocode 1: Basis of design and actions on structures – Part 2-4: Actions on structures – Wind actions.Eurocode 3 (DD ENV 1993 1 1:1992).
● EN 60204-1 – Safety of machines. Electric equipment of machines and mechanisms.
● EN 60429-1 – Switchgear and control mechanisms for low-voltage
● EN 60-529 – The degree of protection provided by covering 
● EN 50082-1 – Electromagnetic compatibility
● EN 50081-2 - Electromagnetic compatibility
● EN 60269 – Low voltage fuses
● EN 61131 – Programmable logic controllers
● IEC 947 – Electric equipment: operation and safety
● Directive ATEX 94/9/EC / Директива ATEX 94/9/EC Low Voltage Directive 73/23/ЕЕС  / Directive 73/23/ЕЕС for low voltage equipment.
Works fulfilled by Pax Company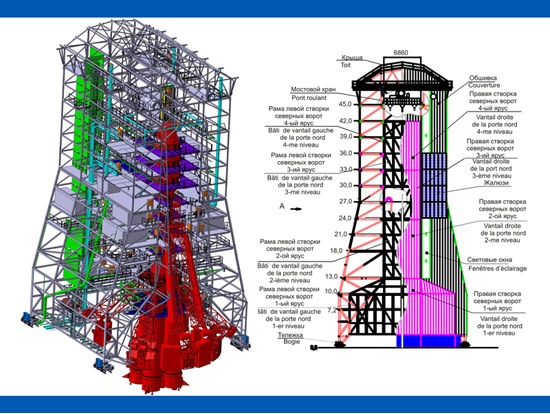 1. Mechanical structure of MG, including the following subsystems:
● Bearing metal structure;
● Cladding and roofing;
● Northern gate with corresponding control system;
● Southern gate with corresponding control system;
● Auxiliary structures;
● Bogies;
● Stairs
2. Control system for gates, pivoting platforms.
3. Control system check point of MG (CSCP) – control for pivoting platforms and gates
4. MG power supply.


In early May 2011, in Kourou the works were carried out for "dry" moving of the Russian "Soyuz ST-B" LV with "Fregat" upper stage, stimulating preparations for launch. Those studies involved more than 300 experts from around the world,

 

Pax company experts were among them. Thus, on May 7 the first virtual launch from Kouru, South America, was produced.
"Dry" moving in May 2011 video


On October 21, 2011 the first successful launch of "Soyuz ST-B" launch vehicle with the European Galileo satellite from Guiana Space Center was made. Further on it is planned to  make 3-4 launches annually in order to create a European group of navigation satellites of global view system. Besides the European satellites from the Guiana Space Center space vehicles with Russian satellites will start.
Launch of October 21 2011 video

Back to products.